Understanding Conjoint Analysis in Market Research
The year 2020 has been unprecedented, to say the least. As countries across the world struggled to contain the coronavirus pandemic and save lives, the world economy has been brought to its knees.  According to a report published by CNN Business on September 17, 2020, over 60% of small businesses that closed during coronavirus have not reopened. The majority of those still in operation have been forced to take up strict financial measures such as reducing salaries, making price cuts, or reducing production to remain afloat.
Yet, these unexpected and difficult times have presented a unique opportunity for businesses to remodel and redefine themselves to fit the rapidly changing marketplace. If current trends are anything to go by, businesses might never be the same again.  The adaptation of new digitalized business models, as well as the growing economic constraints being faced by today's population have altered consumer preference in both product attributes and price sensitivity.  As such, companies must strategize on how to understand their modern consumers better so as to package their products in-line with their consumer preferences to maximize profits and market share. At the moment, the best way to do this is by using entrepreneurship and market research models such as Conjoint Analysis to understand which product or service elements influence consumer buying decisions when considering purchasing products and services.
What is Conjoint Analysis?
Conjoint analysis can be defined as a survey-based statistical technique, used in market research to determine the value that customers attach to different attributes of an individual product or service, and how they influence the buying decision. In other words, Conjoint analysis breaks down the importance of different elements in a product and simulates real-life choices that consumers look at before buying.
The objective of this analysis is to determine what combination of attributes most appeal to consumers when making buying decisions, by analyzing how consumers make complex choices and trade-offs when purchasing products and services.
Conjoint analysis is one of the most effective market research models in extracting consumer preferences and uses this information to help businesses select the most valuable product features, assess price sensitivity, predict the adoption of new products and services, and forecast market shares. This means that you can apply this Conjoint Analysis in different ways including during concept testing, pricing and portfolio analysis, brand tracking, public opinion, advertising and satisfaction levels and market sizing. For these reasons, conjoint analysis as part of market research has become indispensable to product management, marketing, and advertising departments who always seek to understand the types of products or features that consumers like and the attributes that consumers value most when evaluating a product or service. It is frequently used in different industries including consumer goods, life insurance, electrical goods, real estate, air travel, luxury goods to mention just a few.
How Does Conjoint Analysis Work?
For every decision to purchase that a consumer makes, there involves a conscious or subconscious analysis of the product or service features. For instance, when buying a new car, a consumer may pay considerable attention to the brand, price and financing, features and technology, incentives and trade-ins, as well as the residual value: all of which will determine their buying decision. This applies even when we are making simple buying decisions such as choosing a bar of chocolate or selecting a restaurant to take your spouse for your anniversary dinner.
In this regard, Conjoint Analysis works by helping companies understand the most influential components of a product or service. This is done by breaking down the product into different attributes (and within each attribute different levels), and then testing these components in sets of different combinations to identify what consumers prefer. For example, let's consider a conjoint analysis of a used car. The car will be broken down into six attributes, each displaying a randomly selected level, that creates simplified product offers e.g.:
Brand/Model
Price
Mileage
Year of manufacture
Engine size
Financing ( payback period)
These attributes are then presented to respondents as a choice task in a simulated real buying scenario. Conjoint research goes a step beyond asking respondents what features they like best or would be most important to them. The researcher asks respondents to choose between potential product alternatives based on a combination of product attributes and levels. These combinations of attributes are crucial in product packaging as they help companies know how to attract more consumers.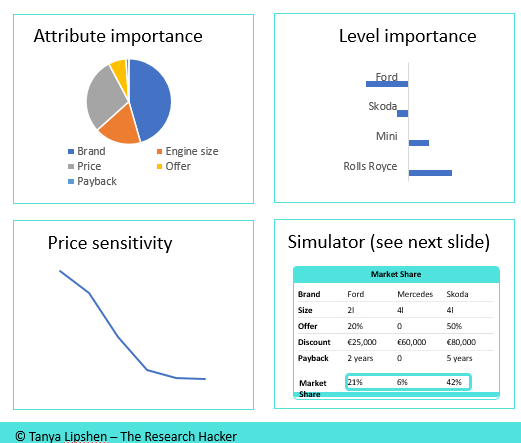 As demonstrated in the diagram, using the data collected from the conjoint study, numerical values are then calculated to show the rate of influence that each attribute and level has on the consumer choices (preference score). The preference scores are further analyzed to build simulators which aid in forecasting market share for products in the market or planned new releases. By using simulators, brands can model consumer decisions by setting specific feature preferences, address pricing to offer value for money, and forecast potential product or service demand in a competitive marketplace. It is important to note that these experimental design models that assemble attributes and levels to create product concepts and choice sets that are valid and simple for the respondents require an extensive understanding of quantitative analysis and survey design.
Why you should invest in a Conjoint Analysis?
Let's consider that you want to launch a new product, or re-evaluate the pricing or portfolio of a product or products already in the market. Using conjoint analysis can help you to:
Assess the importance of product/service attributes. By calculating attribute preference scores, you can identify which attributes and levels are most important to the consumers when considering your product. This can also guide how you advertise the different product features in any communications.
Assess the relative value importance by level. Conjoint analysis allows you to break down, within the different components, the level and evaluate to see what trade off people will make. For example, going back to the used car If financing is an important aspect, this attribute can be broken down into short-term or long-term levels to determine which plans are most favoured by respondents and what trade offs they are willing to make for it.
Evaluation of product or service adoption potential. This is especially crucial when launching a new product or service. Conducting conjoint analysis allows you to simulate preference and revenue shares, thus product packaging is more in-line with both the consumer needs and company bottom-line.
Establish ideal price ranges. Due to the current economic constraints across the world, many customers are becoming even more price sensitive. Thus, price elasticity plays a crucial role in forming the preference share simulation. The conjoint analysis allows brands to build price sensitivity models to optimize likely take up with optimal profit generation.
Testing the impact of product features. Consumer preference scores can be simulated to assist companies in modifying or upgrading product features to fit in with the market demands and expectations. For example, if consumers want a cooler looking car but are price sensitive, then brands will know the extent to which they should improve the car design and interior fittings to fit this demand without increasing the price.
Profiling potential customers. Based on the preference scores resulting from a conjoint analysis survey, you can explore the different purchasing decisions of different segments and target accordingly.
In conclusion, conjoint analysis plays a crucial role in helping businesses gain an in-depth understanding of what drives their consumers' preferences. In an ever-changing consumer-driven marketplace, this data is especially important to help companies package their products in a way that appeals to their consumers, thus, maximizing the profit margins. To this effect, The Research Hacker will be your ideal partner to help you conduct holistic quantitative conjoint research – including fully integrated qualitative research if required. This will help you to better understand your audience and strategize  product portfolio and pricing techniques that put you ahead of your competitors.
© Tanya Lipshen, The Research Hacker
About The Research Hacker:
With over 20 years' experience uncovering the reality of consumer perceptions, their human stories, and the data behind them, The Research Hacker can use conjoint analysis to help you scale the turbulence of this new emerging marketplace.
The Research Hacker delivers high quality research projects on schedules and budgets that work for you. Contact us to share or define your research objectives and get a quick proposal.
Not sure exactly what you need?
Contact me and I can advise or direct you to the best contact from my network.
Let's get started
Contact me to share or define your research objectives and get a quick proposal.